Dairy Training Courses
STOP PRESS! Please note that the West Highland Dairy will be closing down at the end of August 2018 to enable us to enjoy a well-earned retirement!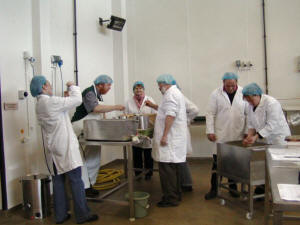 Whether looking for a course for smallholding based personal cheese making or a course to cover commercial production, please contact us.
The dairy was established in 1987 and we have taught a great number of prospective cheese makers during the last 20 years. The students have ranged from 'a bucket in the kitchen' to cheese makers in need of extra training. We are good at accommodating mixed ability groups.
Yogurt, butter and ice-cream courses are difficult to schedule so please contact us and we will try to accommodate you.
Milk type: - Cow, sheep and goat milk are available to the students. We no longer have milking sheep but are happy for students to bring their own milk including buffalo milk.
Cheese making groups are normally 6 students.
• Basic Cheese Course
• The Advanced Cheese Course / Trouble Shooting
• Mix and Match Courses for Butter, Yogurt and Ice Cream
• Course Schedule
• Course Fees and Application Form